Your Experience
Introduction
The Coriole Music Festival encompasses two days of beautiful chamber music, with meals and wine included.
There are two concerts on Saturday and one on Sunday. Each of the weekend's three concerts will be followed by a delicious meal in the Coriole courtyard, where performers and audience can mix while enjoying fine food by chef Patricia Streckfuss and superb Coriole wines.
On Arrival
When you arrive at Coriole, please head to the welcome desk near the courtyard to introduce yourself. You will be provided a complimentary booklet with background information on the music you are about to hear and information about your seat allocation. Also a great opportunity to ask any questions about the weekend!
Enjoy a cup of tea or coffee and some delicious biscuits before Artistic Director Simon Cobcroft gives a talk to introduce the program of music for the day.
Concerts
The concert venue is a short walk away in the Coriole barrel room (replete with wooden wine barrels lining the walls) which has a wonderful acoustic for chamber and vocal music.
Seating for the concerts is in reserved allocated seats so there's no rush to get inside. Doors open about 15 minutes before each concert begins.
During interval light refreshments are served.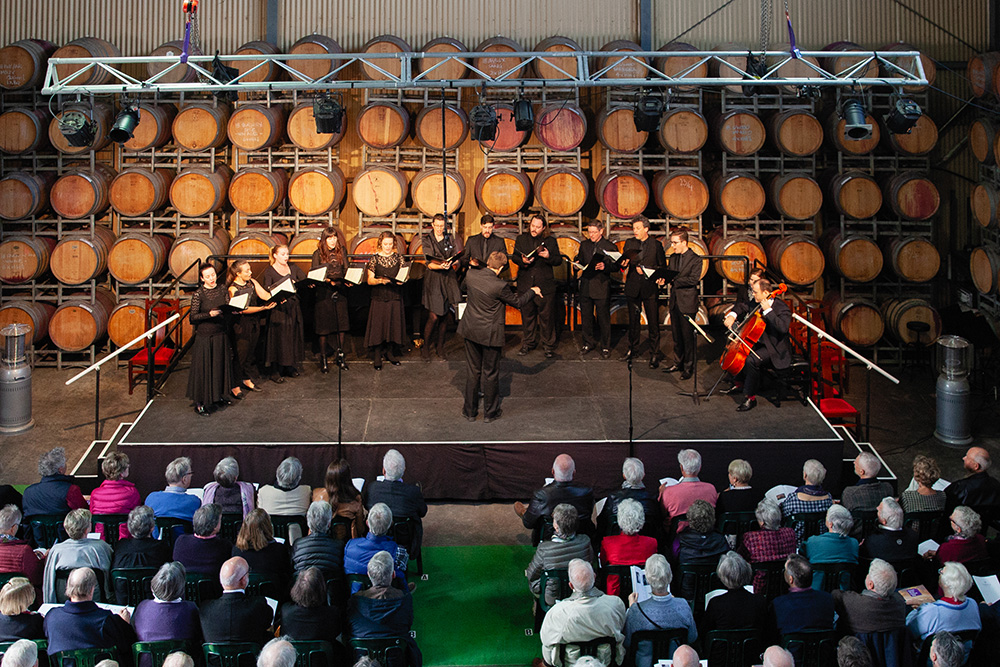 Food and Wine
After each concert a delicious meal with Coriole wines is served in the covered courtyard back where you had your morning tea and coffee.
Seats for meals are normally unreserved. Please ensure your dietary requirements are noted when you make a booking or email us beforehand using book@coriolemusicfestival.com.
Transport and Accommodation
Coriole is in the beautiful McLaren Vale wine region about 45 minutes south of Adelaide by car.
There's plenty of accommodation in the region and we encourage you to make a weekend of it by staying locally. You will still need your own transport (such as a car or organised tour), however, as no public transport is available.
Please see our Frequently Asked Questions for more information and guidance.